Another selection of pictures with genetic comments
---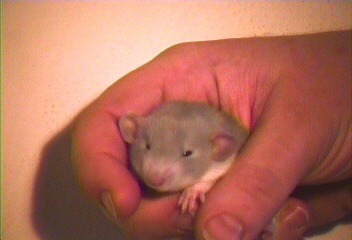 Here is a picture of AR Bradlee at 4 weeks of age. He is a blue dumbo. His eyes are dark ruby. Also, as you can see by looking closely at his muzzle, he has white at the roots of his fur under the blue coloration. I plan to follow the example of the cat clubs and call this color "blue smoke". I'd like to get it standardized. It's especially cute in rex where the white shows and the waves are blue.....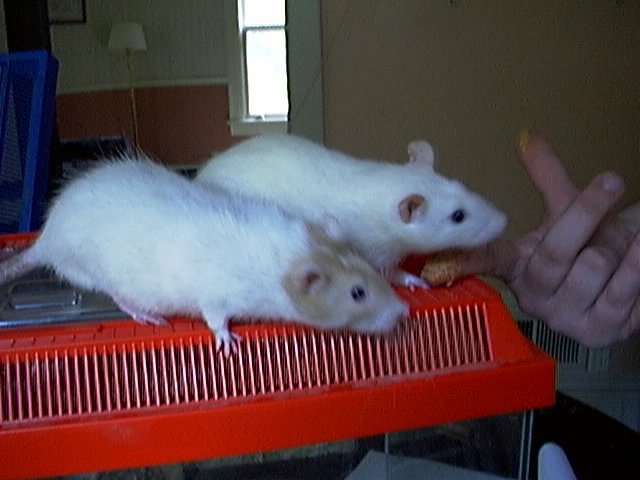 Here are AR Brekke and AR Linnaea at the age of 2 years. They are sisters. This line is particularly resistant to disease and respiratory problems, and many of the rats of this line live especially long lives in good health. At the time of this writing, the girls are about 28 months old (11/98) and still going strong, despite the fact that a freak illness at the age of 3 weeks paralyzed Brekke for 2 weeks. At one point I considered putting her down! I'm glad I didn't. And so are Carl, Mick, and Stephanie, who share their home with her. Linnaea lives with me in happy retirement, building nests and digging in the bedding and sleeping deeply to fool me into thinking she's dead. Interestingly, many of the rats of this line are extremely deep sleepers. I wonder if this has some connection with their incredible health?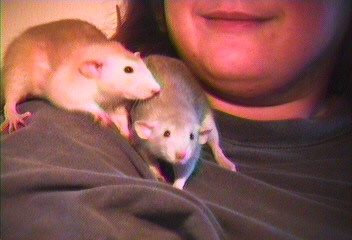 AR Summer and AR Phoebe. Summer is a fawn dumbo, and Phoebe is a powder blue agouti dumbo. These sisters are vital to the plans of AristoRats. Phoebe will never be bred due to an untimely outbreak of SDA. However, she performs dual roles as SDA detector (she always gets a swollen throat when exposed to the virus) and PR rattie in training. Summer is, I am very thankful to report, presently pregnant (as of 10/31/98) and should have babies that will be truly pivotal to my fawn dumbo breeding program. This is an outcross litter. What makes it so special is that it combines 3 lines that have extremely good health, fantastic temperament, and attractive color and markings. I can't WAIT to see these babies!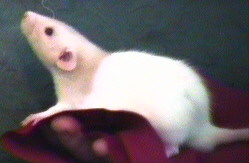 Here is a fine example of a fawn bareback dumbo. He is well marked. Barebacks should have a colored hood covering the head and neck, and be completely white everywhere else.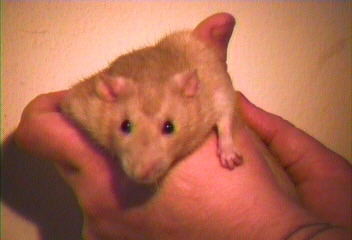 This is AR Lauren, a cinnamon pearl rat. She is darker than a cinnamon pearl ought to be. Cinnamon pearl involves several genes. The rat must have at least one agouti gene. It must also have 2 mink genes in order for the pearl gene to work. Finally it must have one pearl gene--two pearl genes in one rat are lethal.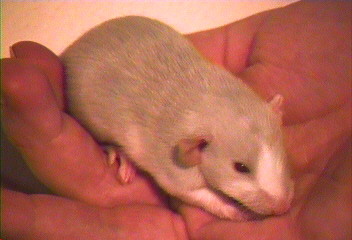 These are pictures of AR Magnum. He is a platinum blazed berkshire dumbo. The blaze is correctly shaped and proportioned, and the platinum coloration is also correct. Platinum is a double dilution--Red Eye Dilution combined with Blue dilution. In this case there is no agouti gene present, as platinum is black-based. Black-based rats have no ticking present in their coats. Agouti-based coat colors have ticking (in other words, each hair has bands of color) present.



Click HERE to return to main rat page
Click HERE to return to Greeneye Graphics